MEET OUR TEAM
LEARN MORE ABOUT US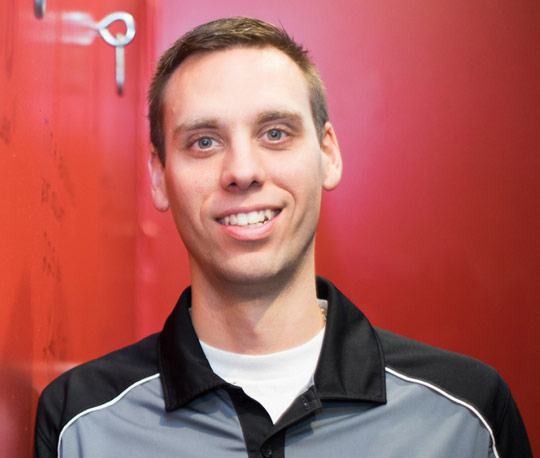 GREG MOULTON
Owner, Kinesiologist, MAT Specialist
Greg has been involved in the fitness industry for over 15 years. He graduated from York University with a Bachelor of Science Honours degree in Kinesiology. As a Registered Kinesiologist, Greg has a deep understanding of the human body and the mechanics involved in human movement. He is also a Muscle Activation Techniques specialist and enjoys working with youth athletes and individuals who are recovering from an injury or surgery.
Greg is the strength and conditioning coach for the Newmarket Hurricanes Jr. A Hockey Club and has enjoyed watching their progress on and off the ice. He encourages his clients to live a healthy and active lifestyle and wants to empower the youth of today to follow those steps as well. Greg is active in his community and enjoys the opportunity to give back when given the chance!
Greg was nominated and one of three finalists for the 2019 Business Excellence Awards presented by the Newmarket Chamber of Commerce in the Young Professional of the Year category.
To find out more about Matrix of Motion and what Greg has been up to, check out the video below!
Athletic Therapist, Kinesiologist
Clare is a Certified Athletic Therapist, Registered Kinesiologist and Certified Strength and Conditioning Specialist, as well as a Canadian Red Cross First Responder.  As someone who has always been passionate about sports, dance and fitness, she naturally started her post-secondary journey at the University of Toronto completing her Bachelor of Physical and Health Education.  From there she was exposed to the field of athletic therapy after completing a third and fourth year placement with the national champion women's field hockey teams.  Upon graduation from U of T, Clare completed her two year Athletic Therapy Certificate program with York University.   Upon completion of her certificate, Clare went on to McMaster University to complete her professional Masters of Rehabilitation Science.  Since certifying in 2013, Clare has had the opportunity to work in a variety of settings including: private practice, with professional dance companies (Ballet Jorgen and Heartbeat of Home), AAA hockey, Junior A hockey, and with the George Brown Huskies varsity program.  Most notably, Clare has been one of Karate Canada's therapists, traveling the world and supporting the team!
Clare is passionate about continuing education, and has completed additional courses in muscle energy, concussion assessment and treatment, TRX training, hip and knee advanced assessment, as well as attendance at multiple national conferences with both the Canadian Athletic Therapists Association (CATA) and National Strength and Conditioning Association (NSCA).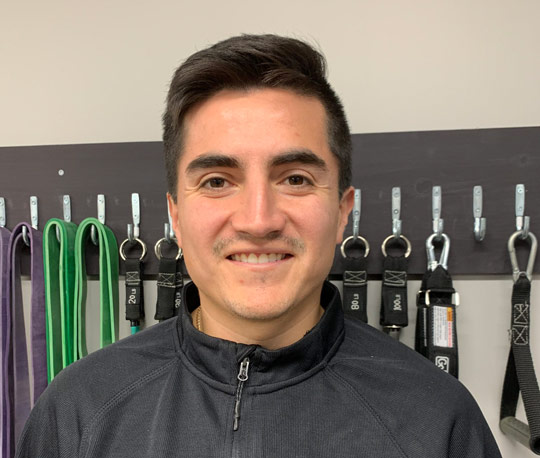 Esteban is a Certified Athletic Therapist and a Kinesiology graduate from York University (BSc). He has worked at the University of Toronto, York University and Bill Crothers Secondary School helping each of them reach playoffs and win Provincial Championships. His athletic therapy knowledge allows him to work with individuals who have acute and chronic injuries. His main goal is to help his clients achieve a better state of physical fitness that can improve their daily routines or provide an opportunity to participate in sports. 
Esteban has worked with a variety of teams at different levels such as Vaughan League 1 Soccer Team and ANB Soccer Academy. While with the Vaughan League 1 Men's team, he won 2 League titles (2016, 2017) and 2 Ontario Cups (2016, 2018) as well as a Bronze at the National Championships (2016).. He has been a therapist for other sports such as Field Hockey, Karate, Rugby, Football and Tennis. Currently he is the assistant Athletic Therapist for York 9 FC, which plays in the Canadian Premier League. Esteban also competes in Track & Field and Cross Country at the National Level winning the team silver medal in cross country in 2016.
He was a member of the York University Cross Country and Track & Field team for 5 years where he was the cross-country MVP 3 years (2012-2013,2013-2014, 2014-2015). Currently he is a national level marathoner.
Lisa is an experienced Personal Trainer, Healthy Eating & Weight Loss Coach, certified Battle Ropes coach, and certified teacher. She is passionate about helping her clients develop and enhance both physical and mental toughness through the power of movement, healthy eating and exercise. As a busy mom, Lisa understands that life can present challenges that make it easy for us to lose sight of how important it is to prioritize our own health and wellbeing. Supporting you and helping you develop your self-confidence while you address fitness and nutrition goals and strategies that are realistic, sustainable and enjoyable is Lisa's specialty. Lisa will help you to feel successful and empowered by guiding you toward realistic lifestyle changes.
Lisa believes that exercise is so much more than aesthetics. Her philosophy is that "movement is medicine"- not only can exercise be fun and functional, but it can nourish both physical and psychological states. Lisa's passion lies in educating her clients about the physical and emotional benefits that come from healthy, safe, and goal-oriented exercise and eating. She can help you implement tricks that lead to life-changing sustainability without the pressure of extremes.
Lisa enjoys working with a wide variety of clients. She is dedicated to encouraging and motivating busy parents, active agers, and athletes of all levels in order to achieve success through mindset, physical challenge, preventative healthcare, and personal growth.
On her own time, Lisa enjoys spending time with her two children and her dogs, lifting weights, running, and throwing around the battle ropes she is so passionate about! She is continually devoted to furthering her education and her understanding of nutrition, exercise, and overall health.